Family Sponsors 100 Children around the World
— Mary Kathryn Tiller · Thursday, July 29, 2021 —
---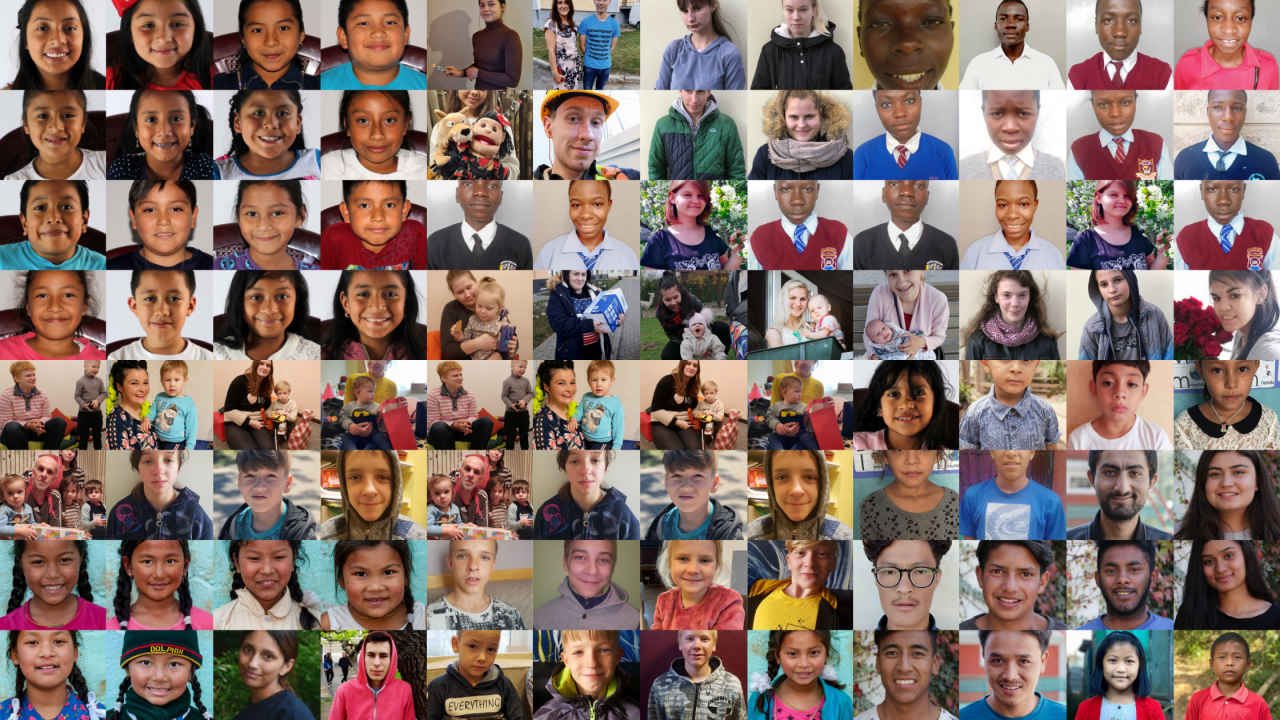 At Orphan Outreach, our goal is to help each of our supporters respond to whatever it is God has called them to do. For some, that is serving as a prayer partner, and for others it's participating on a mission trip. For Mrs. Pamela and Dr. Darold Opp, God invited them to sponsor 100 children around the globe.
Committing to provide for 100 children isn't something one does flippantly; rather, this decision came after years of hearing from the Lord and taking step after step of obedience. In fact, the Opp family has been walking in faith and generosity for the past 28 years, after a life-changing encounter at an orphanage just outside of Moscow.
"It was early December in 1993 and we were putting on a Christmas party for the children," Dr. Opp shared. "I remember walking into the orphanage and seeing this tall, thin, sickly looking girl. As she passed by me, God impressed upon me, 'This is your child, wait for my cue.'
"We sat down and began giving our gifts to the children one by one. I ended up being the last person to give my gift and as I looked over at the table, I noticed the little girl was hanging her head. All the other children were happy and laughing because they had their gifts, but she hadn't received one yet. So I got up and started walking towards her.
"When I got close to her, it felt as if I went deaf. I could hear nothing—no laughter, no talking. Suddenly, I heard Him speak Matthew 25:40, "Truly I tell you, whatever you did for one of the least of these brothers and sisters of mine, you did for me." Suddenly, I could hear again. When I reached the little girl, I knelt down and gave her a doll. She just about squeezed the stuffing out of that doll! A smile came on her face and it never left.
"I went home from that trip and told Pamela, 'I'm not sure what God has planned for us with regard to missions, but I think it's gonna be something big.'"
Since that moment in Moscow, the Opps have continued to follow the Lord's prompting, supporting education programs, Bible distribution, and major building projects in countries all over the world.While they have enjoyed serving each of the ministries God in which has led them, Dr. Opp's true passion is children.
"My love for children began in my profession. I had a very heavy emphasis on children in my dental practice, so sponsorship feels like a natural choice for us. We've been involved with many large projects over the years but last year, my wife and I decided one of the greatest investments we can make is investing in the children directly," Dr. Opp said.
The Opps learned of Orphan Outreach through their long-time friendship with President-Elect, Dr. Rey Diaz. They met Rey during his years in Honduras, and continued to stay in touch when he returned to the States to pastor and again, when he joined Orphan Outreach.
"When we first decided to sponsor through Orphan Outreach we went on their website and came across CadaNiño and the work Timothy Martiny was doing. I was so impressed I called Rey up and said, 'We want to sponsor seventeen children with CadaNiño.' So we started with seventeen and soon added another sixteen children from programs in other countries," shared Dr. Opp.
Sponsoring 33 children was generous by any standard, but during a time of prayer, Dr. Opp felt challenged by the Lord to take one more step of faith.
"I was praying one day and the number 100 was just impressed upon me," Dr. Opp remembered. "It was like God was saying, 'How about doing 100? If you can do 33, you can do 100.' So, I sat down and told Pamela,'I think we need to sponsor 100 children.'"
After sharing his audacious dream with Rey, the Orphan Outreach sponsorship team put together a box of 67 children in programs all over the world and mailed the packets to the Opps. The children ranged from preschoolers in Nepal to teenagers pursuing higher education in Kenya.
"Every day, I pray Ephesians 1:16-20 over them by name. It takes a little time to get through all one hundred but it's my deepest joy!" Dr. Opp shared, smiling.
For Dr. Opp and his wife, knowing and praying for each child by name is where the heart of this ministry resides.
"Relationships are everything," Dr. Opp said, "The best part of child sponsorship is receiving letters from the kids. We save every letter we get. We've invested in a variety of projects over the years and you rarely get that kind of personal feedback from the people you're trying to serve. Through sponsorship, though, we can see their faces, read their letters, and pray for them by name. That's special to us."
The Opps are now in their retirement years and enjoy living close to their son, daughter-in-law and two young grandchildren. They don't presume to know the plans God has for them, but they know they want to spend the next phase of their lives sowing into the lives of others in whatever way God leads.
"We've sponsored one or two children before, and we've worked in a country here and there, but sponsoring 100 children across eight countries is a new horizon for us—and I don't know if we're at the limit or not. A verse that continually comes to mind is Ephesians 3:20, 'God is able to do immeasurably more and all we ask or imagine through the power that is at work within us.'
"In everything we do, however, my heart is to ignite and nurture the power of joyful living and giving in God's people. It took a long time for us to realize that the greatest investment we can make with our money is not in things—it's in children. When you invest in children you're investing in their future, in their eternity. You simply can't ask for a better return than that."
Is God inviting you to serve orphaned and vulnerable children? Sponsorship is a powerful way to invest in their lives. Meet the children available for sponsorship now!
---