A natural fit for me...
— Mary Kathryn Tiller · Tuesday, June 25, 2019 —
---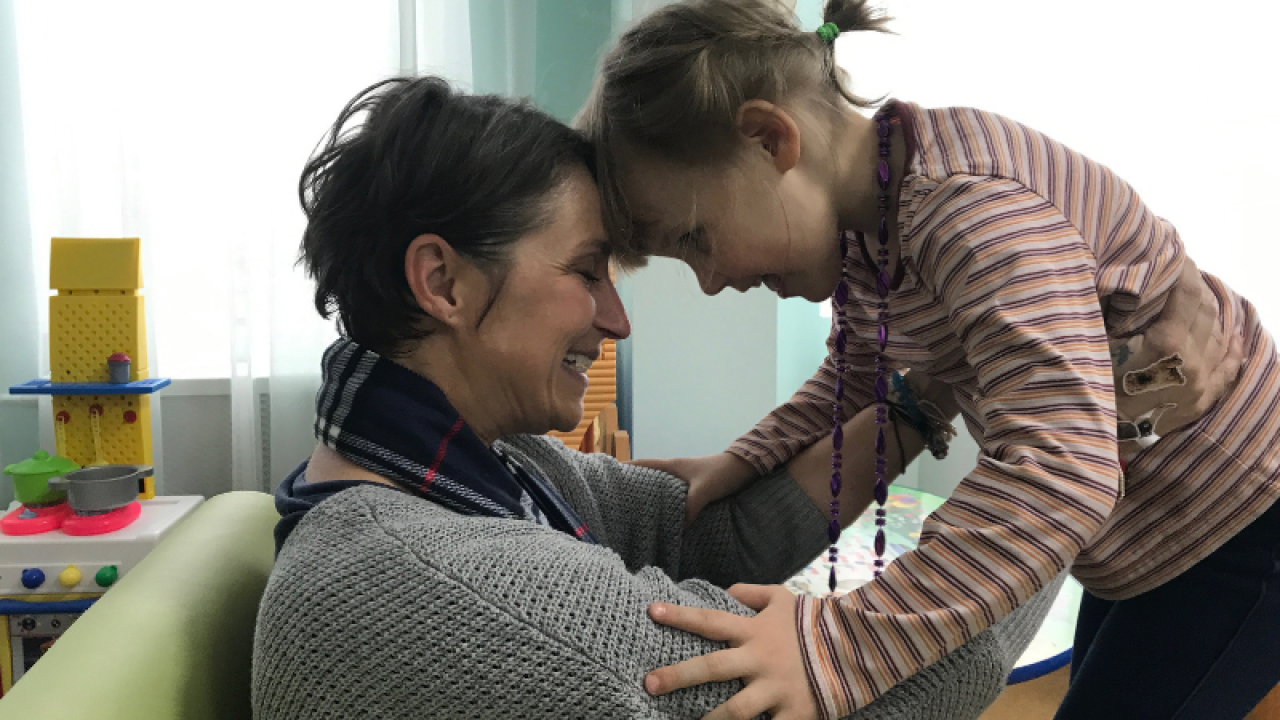 Whether it is holding little ones in Guatemala or encouraging young adults as they age out of the orphan care system in Russian, middle school science teacher, Christy Engvall, wants to be used by God to serve His children.
"One of my favorite verses is Mark 10:45, where Jesus says, 'I did not come to be served, but to serve.' That has become my mindset", shared Christy. "It's the perfect example of what we're supposed to do in this world, to be the hands and feet. I guess as a middle school teacher and a leader for the vacation bible school at my church, even with my two teenage boys, I'm always involved with kids and some form or fashion. So, Orphan Outreach is a natural fit for me. I feel like that's where I'm supposed to be."
Since September of 2016, Christy has participated in four trips with Orphan Outreach and she has two more in the works. She took her first trip with a group of six friends. Together, they traveled to Guatemala, where they spent their time holding babies, playing games with the older children, and dancing together in worship. By the time they left, Christy was hooked.
"That first trip was just phenomenal. It really touched my heart and I knew I wanted to continue traveling with Orphan Outreach. I didn't care where. I was open to whatever God had in the future." Christy said.
Soon after her first trip, Christy attempted to travel to India with Orphan Outreach, but the trip was unfortunately canceled. Heartbroken, Christy searched for another opportunity to travel and found herself considering a trip to Russia. Up to that point, Russia had not been on her radar, but a trip was scheduled for her Spring Break and she had the funds, so she booked it.
"When I got on the plane, I didn't know a single person. I just knew I was going to love on those kids," she remembered.
After taking her first two trips alone, Christy took the opportunity to travel with her two teenage sons to Honduras that June. Ages thirteen and fifteen, the boys loved serving alongside her, playing with the other kids and leading a small vacation bible school.
"After that trip to Honduras, I knew I wanted to go back to Russia and see those kids again. Once again, the timing and money happened to work out, so I traveled a second time to Russia that July. It was powerful to see those kids and workers again just a few months later. I believe that's what Orphan Outreach lends itself to, making these relationships not only with the kids but with the staff as well. It was just an awesome experience. I am signed up to go to Russia again in July of this summer and I'm excited to see those kids the third time. I'm really beside myself."
In addition to her third trip to Russia, Christy has felt led to book a trip to India. In a vivid dream, she saw herself riding on a bus, holding an eighteen-month-old Indian girl. When she woke up, she felt an undeniable urge to go to the computer.
"It was 2:30 in the morning, so of course I thought, 'No, that was just a great dream.' But again, I felt that I needed to go to the computer, so I went and saw Orphan Outreach had just posted a trip to India for October 2019. When I saw that I was like, 'O.K. that's it!' So, not only am I planning to go to Russia in July but I'm going to go to India at the end of October. So far, that's my plan."
While some balk at the frequency and scope of Christ's travels, for her it is a matter of following God's lead and serving where He would have her.
"I often get asked why I travel so far away. A lot of people say, 'There are orphans here that need love, why go all the way to Russia or India?' I always answer them with 'Well, why not?'
"You know, those orphanages need help and Orphan Outreach spends their time building those relationships. They need volunteers in order to continue doing that. I would rather go places where I know they need us. Even in a short amount of time, you can make a change. You plant a mustard seed on these trips. You don't know what will happen in the future, but you have faith something will."
For Christy, planting that mustard seed often looks like using her natural giftings and talents to serve the children she meets. As a middle school science teacher, she has had the opportunity to bring a microscope to a school in Honduras, and lead a group of older children through several science experiments.
"We did some fun science experiments but then we related it back to a Bible study or a principle of Christ just trying to make it all work together. I enjoy doing it that way. I love the way Orphan Outreach structures their trips. It's not like we blow in, read a Bible verse, and say, 'I'll see you tomorrow.' Sometimes, we are there for hours! We might be in small groups or we might find one or two kids that are sitting against the wall by themselves. You have plenty of time tosit and spend time them. You get to hear their story and hopefully, you can crack open a little bit of their heart and share God's news."
Christy plans to continue traveling with Orphan Outreach until the Lord says otherwise. She hopes to encourage others to travel with her and see for themselves the work that Orphan Outreach is doing.
"We are called to love. Everyone is worthy to be loved and that's what we're supposed to do. It sounds simple, but that's what I believe.  And there's really never a good time, right? Whether it's kids or work, there really isn't a good time. But if God has put it on your heart in any form or fashion, if you keep thinking about it, then to me that's a sign! And you need to just go for it."
Are you ready to follow God's lead for your next great adventure? Check out our upcoming trips here.
---