They want your time and love...
— Julie Cramer · Tuesday, September 12, 2017 —
---

In 2011, Kim and Joel heard an Orphan Outreach commercial on their local Christian radio station, WCSG, inviting people to travel to Russia. With attachments to the country through their adoptive children, Anastasia (14) and Joshua (13), the Blounts concluded the trip was the right way for them to serve other children in the country. So, Kim and Joel packed their bags and joined 30 others from greater Grand Rapids on a journey of a lifetime.
"What I thought was going to be a one-time mission trip, God turned into so much more. Throughout the trip, Joel kept saying, 'Next year we should do...' Then a little while later, 'Next year we should try...' My response would always be, 'What do you mean, 'next year?'" Kim says. On one of those occasions, Paula Hayes, the trip leader, overheard Kim and Joel and told them that if they returned the next year, Orphan Outreach would choose a date that suited their family best. They agreed.

Paula was persuasive, indeed, and she and Kim had become fast friends. So, the next year, when she suggested Kim co-lead the trip with her, Kim couldn't refuse.

"Little did I know that that would be the last time I would have the privilege of traveling with her. She passed away weeks before our fifth trip to Russia in 2015."


Despite her loss, Kim has continued to lead trips for Orphan Outreach. "Last month I was blessed to lead a team on our seventh mission trip. Lord willing, Joel and I will be back again next year," she says. Time heals as it also instructs. "On our first trip, I felt it was more about how much 'stuff' and 'things' we could bring for the kids. While that is nice, it's not the most important thing you can bring them. Ultimately, they want your time and love more than anything."

After several trips, the list of children who have left their mark on Kim and Joel is "quite long," she says. On the first trip to Russia, they met five siblings with a heartbreaking story, "although you would not know that by the smiles on their faces," Kim says. Year after year, as their bus pulled into the camp, the children searched the crowd for familiar faces. "One time we got off the bus and all I could hear was the sound of footsteps coming towards us faster and faster, and then seeing Sasha jump up and wrap his arms around my husband's neck."

It is this type of response that has convinced Kim that short-term mission trips absolutely have a place. "I believe they can be life-changing not only for the kids, but also for the trip participants," she says. "I never would have imagined that our first mission trip would have led to six consecutive ones. It sparked a passion for orphan care in both myself and my husband, Joel. As far as the kids go, we have had several of them tell us that it means a lot to them that we return year after year. The relationships that you are able to make are amazing and the trust level builds each year.

"My faith has grown stronger since becoming involved with Orphan Outreach and going on these mission trips," Kim adds. "Each year I witness God using ordinary people to achieve extraordinary results. We have faced many challenges throughout the years, but each time God is able to turn those circumstances around and, in the process, teach us that ultimately he is in control and can do so much more than we could ever imagine."
SOME BUMPS, SOME LAUGHS ALONG THE ROAD
One challenge came during the first trip in 2011. The team debarked the bus at the first camp only to learn that there had been an outbreak of chicken pox. Unsure of their next move, they stood in the parking lot, and watched as the children waved and pressed their faces against the windows.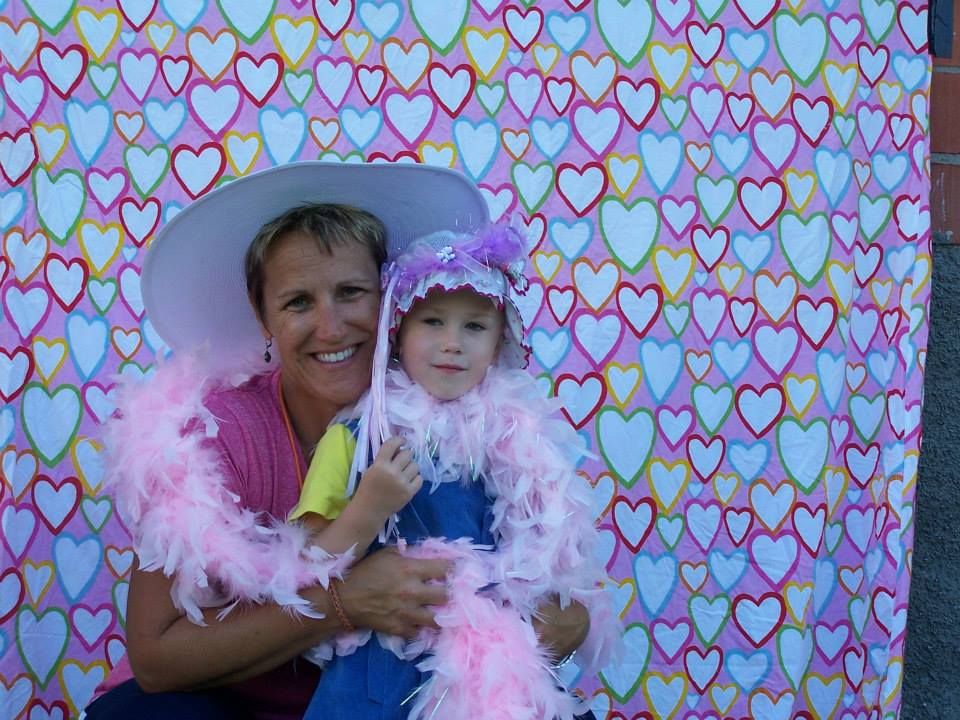 "It broke our hearts," she says. "We decided to divide into groups and do a prayer walk around the building, and we also prayed with the head doctor who had come out to talk with us. While it wasn't what we were hoping for, God was able to use our time there to praise and give glory to him."

"What I want most for the kids in Russia is to know that they are loved not only by those that come to visit them, but also by their heavenly father. I want them to have the confidence to step out in faith and know that God has their back and where they are does not dictate where they are going."
On other occasions, Kim and Joel and other team members have had to pivot in other ways. "We use Google translate to help us make nametags for our team," Kim says. "One year, several children were giggling at one of our team member's nametag. When we asked why, our translator told us that her nametag said, 'Unknown.' Apparently, there is not a Russian spelling for Marlana!" This year, Kim says the team finished each activity with "Finski," believing it meant "finished." Three days later, they learned that it actually means, "Finnish." "I guess we need to annunciate better when asking our translators for help," she says.

Of one thing, Kim is certain: "There are many things that I admire and respect about Orphan Outreach," she says. "Their staff puts the wellbeing of the children above everything else, and they minister to the kids even after they age out of the system, teaching them life skills and how to integrate into society. We cherish the time with the kids and staff.
They have become part of our extended family. When I think of Russia, I think of the smell of onions cooking in the morning, the endless selection of dark chocolate, taking in the beauty of the Gulf of Finland during our evening devotions, singing, How Great Is Our God in two languages, but singing to the same God," she says. "It has become like home to us."
A Little More about Kim Blount:
When Kim is not in Russia with Orphan Outreach, she works part-time as business manager at Immanuel Lutheran Church in Grand Rapids, Michigan, and spends time with family (including the cat, Silas), walking the family's dogs, Max and Marley, or playing tennis.

---