Many of you have asked when we will once again be able to travel to the countries Orphan Outreach serves. Just like you, we look forward to that season too.

And while we wait, we know how important it is to stay connected.
So this summer,

we're bringing the

COUNTRIES TO YOU

on a special Mission of Hope!
Mission of HOPE is not your typical "virtual " mission trip — it's a fun and unique way to connect with the countries and children we serve around the world in a self-guided missions experience.
It's designed to provide you all the resources and flexibility you need to create your own virtual mission trip. You can engage with family, friends, Bible study groups or your church missions ministry to learn more about the Lord's heart for His orphaned and vulnerable children around the world. You can even use our Mission of Hope resources as part of your personal time with the Lord or involve your kids for a great homeschool activity!

There are so many ways you can be involved!
Each week, beginning on June 14th and continuing throughout the summer, you will have the opportunity to "travel" to a different country via social media. You will learn first-hand from our in-country partners about the unique needs facing the children and programs we serve, and how we are responding to those needs.
Register for exclusive access to special activities and unique resources with the
Mission of Hope Digital Passport
You'll have access to biblical discussions and devotionals that are focused on orphan care ministry, as well as a delicious recipe from Guatemala, a fun opportunity to dance with the kids in Kenya and a Global Worship Playlist to personally connect you to the culture and people in the countries we serve.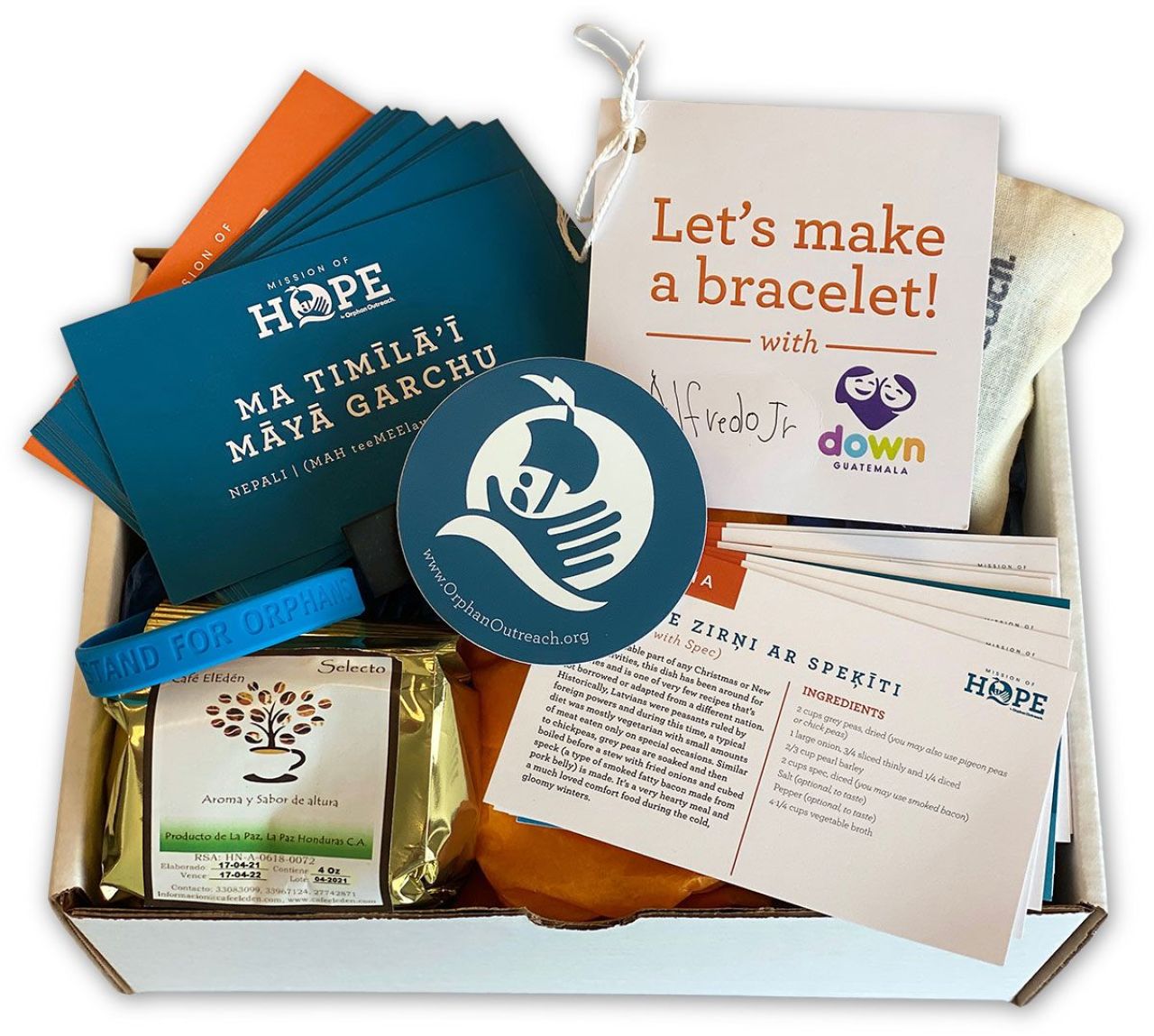 Your Mission of Hope Box is filled with exclusive gifts including coffee from Honduras, bracelet-making from Down Guatemala, recipes from each of the countries we travel to, and even a fun lesson on how to say "I love you" in the fourteen different languages spoken in Orphan Outreach ministry programs.
Create your OWN Personal Mission of Hope NOW!
MISSION OF HOPE BOX




and deluxe digital passport
Make a $40 donation

to provide meals for kids and families and you'll receive access to our

Deluxe Digital Passport

and a

Mission of Hope Box

as a special "thank you!" Your exclusive access will take you into the life of orphaned and vulnerable children—and teach you how to advocate on their behalf, no matter where you live!

Provide meals for kids
and families ~
MISSION OF HOPE


digital passport
Or register for our standard

Mission of Hope Digital Passport

and you'll still receive access to great activities and unique resources!
Interested in Traveling with Orphan Outreach on a Mission Trip?